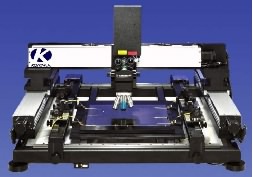 LCD 6400
Semi- or Fully Automatic
Laser Repair System
• Accommodates panels up to 2 x 2 meters
• Flat panel display, large photomask, and color filter repair
• Triple wavelength (1064, 532, 355 nm) Laser cooling systems
• User-Friendly Windows software
• Auto Loader/Unloader (optional)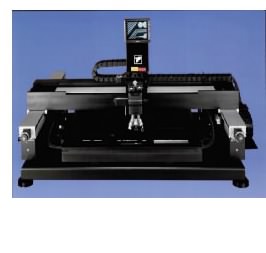 The Korima Model 6400-L offers an exceptional laser cutting system that exceeds the requirements for flat panel display, large photomask, and color filter repair. Fully automatic and remote controlled, the 6400-L comes with single, dual, or triple wavelength to achieve optimum results in the removal of aluminum, chromium, ITO, and polymide on panels before or after assembly.

Laser System
The Korima Model 6400-L provides a convenient laser system for LCD repair. Designed as a one-step operation and accompanied by customized software, the 6400-L achieves the finest results in the precise removal of aluminum, chromium ITO and polymide. Fully controlled and operated away from the microscope, the 6400-L is a completely automated repair station.
Size and Weight
Main Unit:
For 1 x 1 meter system; 60" x 66" x 57"
Approximately 800 pounds
Instrument Rack: Approximately 400 pounds
Total Weight: Approximately 1,200 pounds.
Facility Requirements
Power:
117 V AC; 50/60 Hz
Single phase, 12 Ampere
Air: 80 psi
Vacuum: 18 mHg.
Motorized Gantry System
Travel: Up to 2 x 2 meters
Accuracy: 20 microns over travel distance
Repeatability: 2 microns
Resolution: 1 micron
Substrate Holder: Up to 2 x 2 meters
Computer Control Unit
Software: Operates under Windows 95. "Point and Shoot" on-screen navigation
Multimedia Video:
Digitizing graphics card displays live video image on screens.
Supports point and shoot; drag and drop
Supports video image measuring, retrieval, and printing
Input Sources:
Reads data from KLA Acrotech, PDI, Orbotech,
Hitachi Engineering Research, and Tokyo Cathode Lab.
Other manufacturers also available.
Anti-Vibration Table
Active air provides vibration isolation for small geometry cutting .
Optional Features
Pattern recognition
Auto loader/unloader
AF-405 Auto Focus
MT-405 Motorized Turret.
Click here to download LCD-6400 product information.
---
Korima, Inc.
119 Star of India Lane
Carson, CA 90746

Voice: (310) 532-2222
E-mail: Info@Korimainc.com